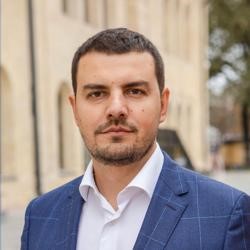 Kushneruk Dmytro is the Consul General of Ukraine in San Francisco. (Consular district including Alaska, Arizona, California, Hawaii, Idaho, Montana, Nevada, Oregon, Utah, Washington, Wyoming) He will speak at our club on Monday, August 14, on the current situation in Ukraine.
Mr. Dmytro Kushneruk was born on January, 16 1983 in Odesa, Ukraine. He graduated and received his masters degree in international law from the Institute of international relations of Kyiv National Taras Shevchenko University and from Odessa National Law Academy.

Dmytro Kushneruk joined diplomatic service in 2006, having worked at different posts at the President's Office. In 2012-2014 Mr.Kushneruk was posted as Counsellor at the Permanent mission of Ukraine to the United Nations in New York.In 2014-2020 Mr.Kushneruk served as Deputy Chief of Protocol to the President of Ukraine.
Dmytro Kushneruk was appointed Consul General of Ukraine in San Francisco in July 2020. He holds diplomatic rank of Extraordinary and Plenipotentiary Envoy of the First class. Mr.Kushneruk is married, with two children.