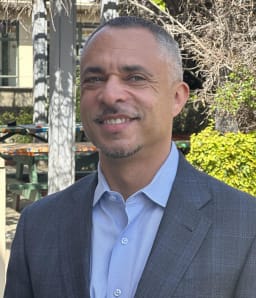 New Hayward Unified School District Superintendent Jason Reimann will discuss his goals for the district when he addresses the Hayward Rotary Club at its meeting on Monday, Feb. 7.
He took his position on July 1 after a vote of the HUSD Board of Education. He has been an educator for more than 20 years throughout the Bay Area and Los Angeles. Most recently, he was at the Castro Valley Unified School District as assistant superintendent of educational services.
He also directed instructional services for the San Ramon Valley Unified School District and was principal at El Cerrito High School, his alma mater, and Dougherty Valley High School in San Ramon.
He earned his doctorate in educational leadership from UC Berkeley and his bachelor of arts from UC Santa Cruz. He is a recipient of the 2022 Marcus Foster Educator of the Year Award from the California Association of African American School Administrators,
He follows Chien Wu-Fernandez, who served as interim HUSD superintendent since Matt Wayne was appointed superintendent at the San Francisco Unified School District.
HUSD has 19,000 students in 30 schools. Hayward Rotary has had an extraordinary outreach to those schools by providing dictionaries and reading books to every third grader. On Aug. 12, the club's annual Child Spree event will provide clothing, backpacks, and books to students in need. HUSD is also a corporate member of the Hayward Rotary Club.